The Morning Dispatch: A Bolton Bombshell
What it means for the fight over whether to have witnesses in the Senate.
Happy Monday. This is gearing up to be another monumental week in the nation's capital, for reasons we'll get into soon.
But first, some unbearably tragic news.
Quick Hits: Today's Top Stories
What Witness Vote?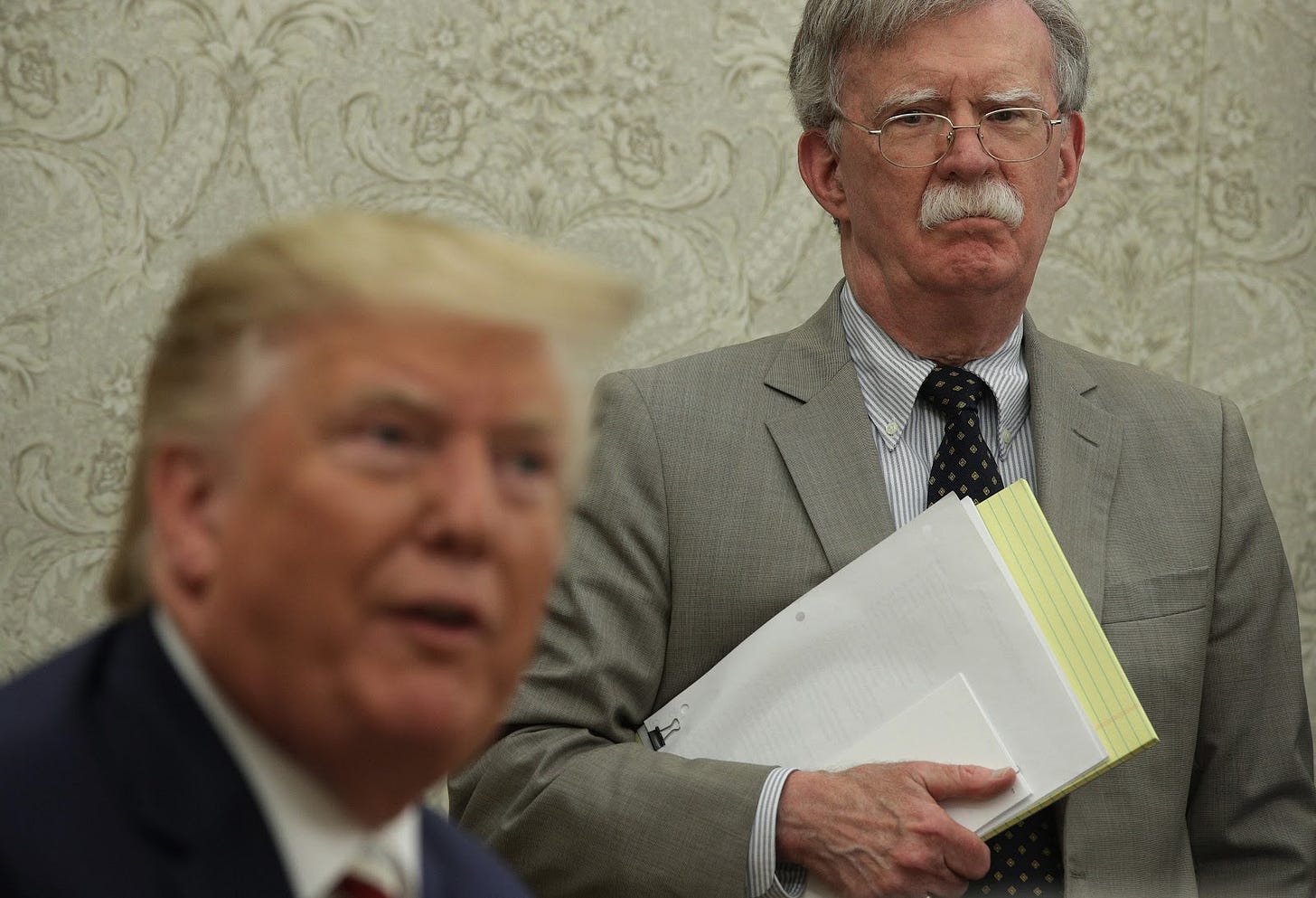 At 6 p.m. Sunday, the New York Times' Maggie Haberman and Michael Schmidt dropped a bombshell: A draft manuscript of former National Security Adviser John Bolton's upcoming book, The Room Where It Happened, which alleges that President Trump told Bolton "he wanted to continue freezing $391 million in security assistance to Ukraine until officials there helped with investigations into Democrats including the Bidens."
Before the news, Senate Republicans seemed poised to move quickly to wrap up the impeachment inquiry into President Trump after the president's lawyers started their defense over the weekend. But the Bolton news complicates those plans. The president's supporters have offered a variety of defenses, but common among them was the claim that none of the impeachment witnesses had firsthand knowledge of the alleged quid pro quo. Bolton does. And if the new reporting is accurate, his own firsthand account is consistent with the testimony provided under oath by several top Trump national security officials who had told the House of Representatives that Bolton was troubled by Trump's behavior on Ukraine.
House Democrats didn't subpoena Bolton during their impeachment inquiry last fall, wanting to move quickly after he refused to testify voluntarily. But since he announced on January 6 that he was prepared to testify if subpoenaed as part of the Senate trial, calls for his deposition among Democrats have grown deafening. Sunday's revelations will amplify those calls.
"There can be no doubt now that Mr. Bolton directly contradicts the heart of the President's defense," Democratic impeachment managers wrote in a statement following the report. "Senators should insist that Mr. Bolton be called as a witness, and provide his notes and other relevant documents. The Senate trial must seek the full truth and Mr. Bolton has vital information to provide. There is no defensible reason to wait until his book is published, when the information he has to offer is critical to the most important decision Senators must now make—whether to convict the President of impeachable offenses."
In a recent ABC News/Washington Post poll, 66 percent of respondents—including 45 percent of Republicans and 65 percent of independents—think the Senate should request additional witnesses.
But that doesn't guarantee the Republican-led Senate will request any. Assuming Democrats vote as a bloc (and all indications are they will), they will need to peel off four Republican senators to subpoena Bolton. To date, only two—Sen. Mitt Romney and Sen. Susan Collins—have voiced concrete support for the idea. But last night's news will make it more difficult for senators to vote "no" later this week.
We've heard in recent days that a vote on witnesses will either fail to gain a majority, or it will pass with room to spare. No single senator wants to be the deciding vote and incur the wrath of the White House. But if enough GOP senators—not wanting to appear complicit in a cover-up—go to Sen. Mitch McConnell and tell him they want Bolton to testify, the majority leader will have little choice but to hold the vote. Keep an eye on what he says today. A senior House Republican source tells The Dispatch that with the Bolton revelations out in the open, it'll be difficult for GOP senators to pretend they don't matter. One Senate GOP source, looking ahead to possible next steps, told us the Times' story "certainly seems to make a Bolton for [Hunter] Biden deal more viable."
There's a final reason Republicans will have difficulty dismissing Bolton's story if it echoes the one laid out in the New York Times: He's got impeccable conservative credentials and, having been a fixture for years on Fox News, has credibility with the president's supporters that other witnesses don't. The president's defenders have had some success depicting earlier fact witnesses as avatars of the so-called Deep State, even when the facts didn't support this portrayal. Ambassador Bill Taylor, for instance, had been hand-picked to return to government by the Trump administration. Ambassador Gordon Sondland, a Trump donor close to Treasury Secretary Steve Mnuchin, was chosen by the White House to represent the United States in Europe.
Bolton has been a top GOP national security official for decades. He's a movement conservative who made a living throughout the Obama years in part by explaining foreign and national security policy to audiences on Fox News, building credibility with the audience on Trump's favorite channel. Will Bolton stick to the story as described in the New York Times? Fox News' very good national security reporter, Gillian Turner, says there's no indication he's backing off.
If he does, the president's defenders will come after him aggressively. Indeed, in the hours after the story broke, some Trump's loyalists in the conservative media launched their attacks. By Monday morning, Rudy Giuliani was taking his shots:
Did Trump's Legal Team Know About Bolton's Allegations?
The former national security advisor's lawyer, Charles Cooper, told Axios he gave the White House a copy of his client's book on December 30 so officials could review it for any classified information. "The pre-publication review process has been corrupted," Cooper said. "Information has been disclosed by persons other than those properly involved in reviewing the manuscript."
In his December 30 letter to the White House, Cooper wrote that Bolton was "relying" on the understanding that "the contents of [his] manuscript will not be reviewed by or otherwise disclosed to any persons not regularly involved" in ensuring "classified information is not publicly disclosed."
We asked Jack Goldsmith, former head of the Office of Legal Counsel during the Bush administration, about the likelihood Bolton's manuscript was provided only to those in the White House with an official reason to review it, as Cooper requested. 
"There is no way to know for sure," he told us. "But if past practice is any guide, the likelihood is high that the manuscript circulated to political officials who were interested in it for reasons having nothing to do with classified information. I know of many prepublication submissions, including my own (The Terror Presidency), where DoJ and the White House ignored the regulations and circulated the manuscript widely to officials who had no formal role in classified information review, and then asked the author to remove passages from the manuscript that had nothing to do with preventing disclosure of classified information. This happened not infrequently during the Bush and Obama administrations, which were more respectful of norms than the Trump administration. It is hard to imagine the Trump administration would be restrained here, especially given the potential explosiveness of the Bolton manuscript in the current context."
Bolton aide Sarah Tinsley told Axios that, aside from the White House, "the ambassador has not passed the draft manuscript to anyone else. Period."
The obvious question: Did Trump's legal team know what Bolton's book alleged — and thus, what he would likely testify if given the opportunity — when they presented their defense of the president this weekend?
What Does This Mean for the Rest of the Cabinet?
The biggest takeaway from Bolton's book is, of course, the apparent confirmation of Trump's desire to hold up congressionally approved aid to Ukraine in exchange for an investigation into the Bidens. But the former national security advisor reportedly also shares some private conversations with some of his former peers within the administration.
Secretary of State Mike Pompeo, according to Bolton, privately acknowledged that Rudy Giuliani's "claims about [former ambassador to Ukraine Marie] Yovanovitch had no basis and that Mr. Giuliani may have wanted her removed because she might have been targeting his clients who had dealings in Ukraine as she sought to fight corruption."
Bolton allegedly writes that he raised concerns about Giuliani and Trump's "perfect" phone call with Attorney General William Barr in July, despite the Justice Department saying Barr only learned about the call in mid-August.
Mick Mulvaney, acting chief of staff, was in the room for at least one conversation between Trump and Giuliani about Ambassador Yovanovitch, Bolton claims.
These revelations will be difficult for Pompeo, in particular. On Friday, ABC News published a recording from April 2018 in which you can hear President Trump tell Lev Parnas, "get rid of her," referring to Yovanovitch. "Get her out tomorrow. Take her out. Okay? Do it." The audio further disputes President Trump's claim that he doesn't know Parnas.
Pompeo was asked by NPR's Mary Louise Kelly on Friday if he owes Yovanovitch an apology, as the head of the State Department. "You know, I agreed to come on your show today to talk about Iran," Pompeo said, claiming to have defended State Department employees.
Kelly: ... Where have you defended Marie Yovanovitch?

Pompeo: I've defended every single person on this team. I've done what's right for every single person on this team.

Kelly: Can you point me toward your remarks where you have defended Marie Yovanovitch?

Pompeo: Mary, I've said all I'm going to say today. Thank you. Thanks for the repeated opportunity to do so. I appreciate that.
But the fireworks were only beginning. After the interview, according to Kelly, she was brought to Pompeo's private living room where, upset he was asked about Ukraine, he "shouted at [her] for about the same amount of time as the interview itself had lasted," dropping F-bombs and demanding she point to Ukraine on a map, which she did.
Pompeo released a statement the suggesting that Kelly had pointed to Bangladesh, not Ukraine, and further criticizing her.
Worth Your Time
Presented Without Comment
Something Fun
Jimi Hendrix's "All Along the Watchtower," Johnny Cash's "Hurt," Jeff Buckley's "Hallelujah." Sometimes the cover is better than the original. This is one of those times.
Toeing the Company Line
Let Us Know
In the wake of Planters Peanuts' viral Mr. Peanut gimmick last week, we asked you to send us some of your favorite (and least favorite) ad campaigns in recent memory. Some of your best responses below:
Favorite:
Least Favorite:
Reporting by Declan Garvey (@declanpgarvey), Andrew Egger (@EggerDC), Sarah Isgur (@whignewtons), and Steve Hayes (@stephenfhayes).
Photograph by Alex Wong/Getty Images.