The Morning Dispatch: Boris Johnson's Big Day
Plus, behind the scenes on USMCA negotiations, and one last update on the IG report (we promise)
Happy Friday! It may be Friday the 13th, but we're feeling pretty good because that means we are officially just one week away from Star Wars: The Rise of Skywalker. Is it going to be any good? Who knows. Are we going to see it opening night? Absolutely.
As is seemingly always the case these days, lots to cover—so let's jump right to it.
Quick Hits: What You Need To Know
A Conservative Rout and a Path Forward for Brexit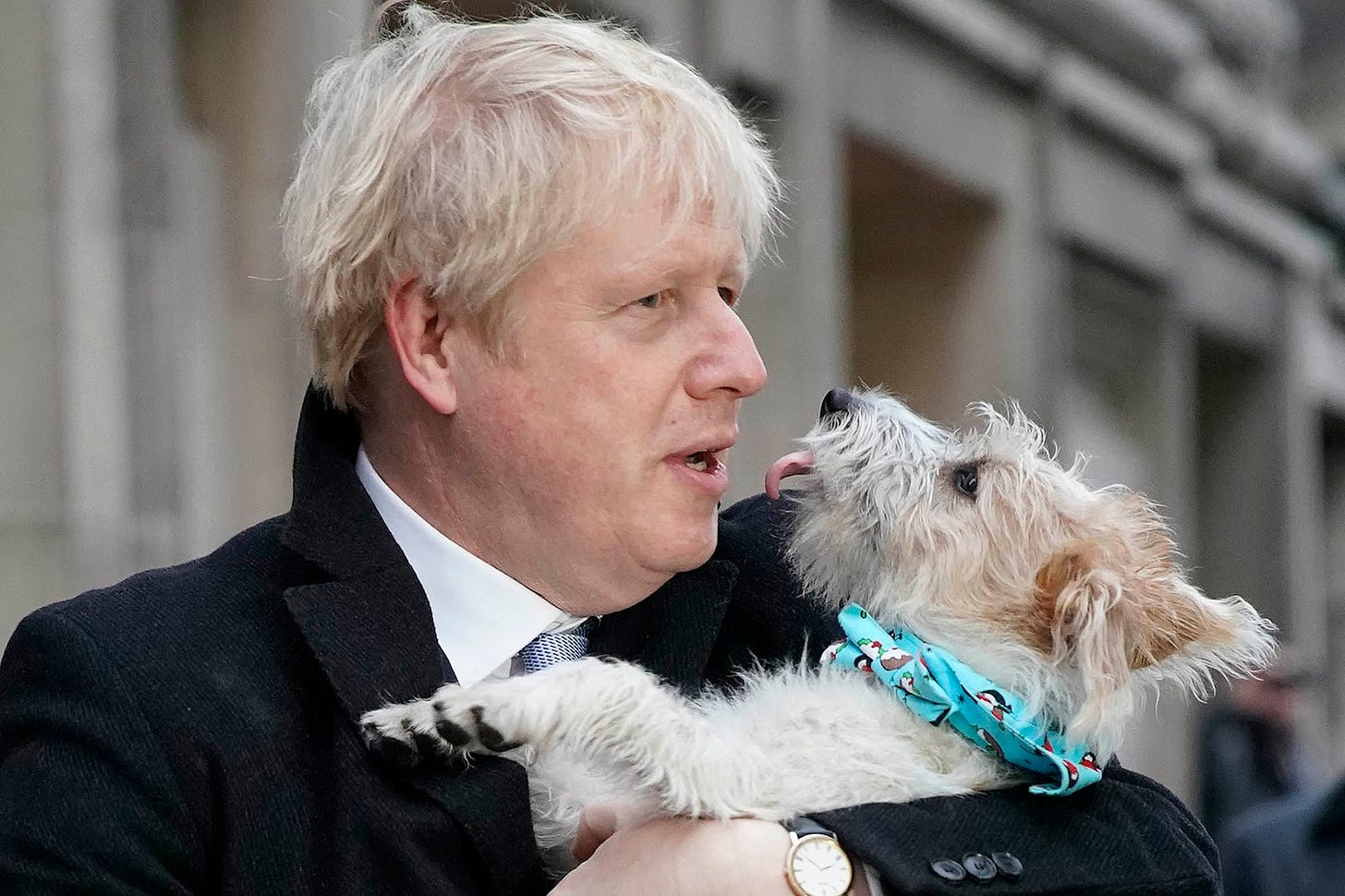 When British Prime Minister Boris Johnson called a parliamentary election earlier this year, the conventional wisdom (and hope of Brexit supporters) was that the Conservative Party would do all right for itself. Still, few observers were prepared for what took place Thursday night: a Conservative triumph of historic proportions, one that reduced the opposition Labour Party to its fewest seats in nearly a century and handed Johnson a powerful mandate.
And so it appears the long, painful process of hammering out the nuts and bolts of Brexit is finally near its end. Three years ago, the U.K. rode an unexpected groundswell of British nationalism to vote itself out of the European Union. Two years ago, then-Prime Minister Theresa May, gambling to strengthen her position in Brexit negotiations, called for a snap parliamentary election, which backfired horribly: The Tories actually lost their majority, the Labour Party made large gains, and May was forced to cut a deal with the tiny Democratic Unionist Party just to stay on as prime minister. As a result, May never got close to landing a Brexit deal, and ultimately resigned last spring. 
This year, however, the Conservatives managed to deliver a simple winning message: A vote for a strong Tory government was a vote to just get Brexit done. On the campaign trail—and in a some goofy ad spots—Johnson and company drilled it over and over: The deal is written and ready to put through Parliament, and all we need is for you to give us the votes. 
It also didn't hurt that the Tories were running against Jeremy Corbyn, the Labour Party leader who became a hero of the socialist left after Labour's triumphant showing in 2017, but who has been dogged by persistent accusations of turning the party into a harbor for anti-Semitism—including from dissenters within the Labour Party and, according to one poll, 86 percent of British Jews. (Underscoring the point, Ken Livingstone, the former mayor of London and a Corbyn ally, told British tabloid the Mirror Thursday that Corbyn lost in part because "The Jewish vote wasn't very helpful." Jews represent less than one-half of one percent of the British electorate.) 
As returns came in, Corbyn announced he would resign as Labour leader. But while some shell-shocked Labour MPs were quick to finger him as the culprit for their embarrassing performance, others were more sanguine about the more systemic institutional issues facing the party. 
"This is not a time for easy answers, as much as I wish it was. I wish there was some silver bullet," MP Jess Phillips, who was re-elected Thursday, told ITV News. "If we just think that this is just some personality contest at the top of the party, that that's going to be the answer to rescue the single greatest vehicle for social change, then we will inevitably end up in a poor situation. … The Labour Party was never just about Jeremy Corbyn." 
The realignment will continue until morale improves.
The near-term effects of Thursday's election—a path forward for Brexit, a mandate for Boris—are obvious. But the long-term ramifications the results suggested are just as striking, providing the latest data point that party realignments across the Western world are showing no signs of slowing down. The results supported the notion that conservative parties like the Tories—previously the domain of pro-business and capital interests—are populated increasingly by less-educated, working-class voters, while left-wing parties like Labour—formerly populated by blue-collar workers—are now increasingly made up of professional-class urbanites. 
This transition, of course, is one familiar to Americans: It's the same dynamic that helped lift Donald Trump to the White House in 2016.
It's Fun to Stay at the US-M-C-A
Robert Lighthizer, the Trump administration's United States trade representative, spent much of his Thursday morning on Capitol Hill, providing updates to senators of both parties, separately, about the United States-Mexico-Canada Agreement (USMCA) negotiations that, after months of stalemate, had finally broken through. 
Nancy Pelosi announced on Tuesday morning that a deal had been struck between House Democrats and the White House, saying "there is no question ... that this trade agreement is much better than NAFTA," before getting in a quick jab: "It is infinitely better than what was initially proposed by the Administration."
The Trump administration began negotiations with Mexico and Canada on a NAFTA replacement back in 2017, striking a deal last fall. But getting House Democrats on board—with their myriad labor and environmental concerns—was a whole other ballgame, with the two sides trading amendments and proposals for months before this week's developments.
Notably absent from these negotiations? The Senate.
"In the early going, I think Bob Lighthizer was very responsive, certainly to me, and to other Republican senators who were interested in this," Sen. Pat Toomey of Pennsylvania said in a phone call with The Dispatch on Thursday night. "But as we got closer to the end, let's be honest: This became a negotiation between Nancy Pelosi, Richard Trumka [president of the AFL-CIO labor union] and Bob Lighthizer. And Republican senators were completely left out."
The result is the just the kind of deal such a collaborative effort might be expected to produce. As Toomey characterized the deal: "still mostly NAFTA with ... some good modernizations and many unfortunate protectionist provisions."
Other Republicans swallowed their concerns and touted the upside. Rob Portman of Ohio took to the Senate floor on Thursday to laud the deal: "[The USMCA] is a good agreement, good for jobs, good for small business … good for farmers, good for workers, good for our economy. It's important we get it done."
Toomey is right to be concerned, both on process and on substance.
On process, says Toomey, "it appears that the House is simply going to pass the implementing legislation that Republican senators have still not seen as of today. And that is in violation of TPA [Trade Promotion Authority, a statute through which presidents can negotiate international trade agreements that then must be approved by Congress] because we're supposed to have 30 days with a draft of the implementing legislation submitted after the agreement is finalized."
So what's in it?
We know in broad strokes what the three participating countries agreed to but details of the new provisions resulting from negotiations between the Hill and the White House are still emerging. "The only way we're going to know is when we see the implementing bill," says Scott Lincicome, a lawyer and trade policy expert at the Cato Institute, referring to the actual language Congress will vote on. His colleagues have offered a breakdown of the big-picture—good, bad, and ugly—here. A quick summary:
On the plus side, the USMCA will improve access to the Canadian market for American farmers, allowing them to sell more agricultural goods to our neighbors to the north. The deal will also boost small businesses by raising the de minimis thresholds at which customs are triggered, letting individuals bring goods with higher value across national borders duty free. It also modernizes some aspects of NAFTA to account for the internet and digital trade, both of which were essentially nonexistent when that trade deal was negotiated in 1993.
But the drawbacks are significant. The most recent update to the USMCA removed most of the intellectual property protections for biologic drugs, reducing the incentive for innovation. The rules of origin requirements with respect to the auto trade and increase of the minimum wage will likely jack up the price of cars for American consumers. And perhaps most worrisome of all, the deal includes a sunset clause requiring the three parties to re-up the deal after just six years.
Toomey called this last point "very, very problematic," noting "the uncertainty that it creates by precluding the ability to plan on what tariff schedules will be can only diminish trade and investment."
Rob Portman, in his aforementioned floor speech, argued that "no agreement is ever perfect," and that "to make the perfect the enemy of the good" would end up hurting the farmers, workers, and small businesses who depend on intracontinental trade. A report from the U.S. International Trade Commission found the USMCA would boost GDP by 0.35 percent and employment by 0.12 percent (though this report did not take into account the effect of the above sunset clauses).  
Toomey also questioned the entire premise of scrapping NAFTA in the first place. "The reason that the administration decided they had to renegotiate NAFTA was not because it was an unfair trade agreement," he told us. "It's a completely fair and free and reciprocal trading agreement with zero tariffs. The reason they felt like they wanted to renegotiate it, because we have a trade deficit with Mexico. And economists of all stripes understand that that doesn't matter a whit, but that's not the view of the administration."
And while he was careful not to speculate on his colleagues' motives, he told us that there are a number of Republican senators who have raised concerns about both substance of the deal and the process by which it's been negotiated.
The House is likely to vote—and pass—the USMCA next week, but Mitch McConnell said the Senate will likely hold off on taking it up until the new year, after President Trump's impeachment trial is concluded.
IG Report 2: Electric Boogaloo
We know, we know—we've been yakking nonstop about the inspector general's report lately. If you read Wednesday's Morning Dispatch or Tuesday's edition of The French Press, you already know the basic score as far as we're concerned: Inspector General Michael Horowitz didn't endorse the wilder conspiracy theories President Trump and his allies have offered about President Obama's Department of Justice, but he did offer a stern indictment of the way top FBI officials, convinced Trump was genuinely a Russian agent, cut corners in ways that reflected poorly on the bureau and its mission. 
If you didn't get all that from the report, Horowitz's Wednesday testimony before the Senate Judiciary Committee left no room for doubt. He flatly dismissed James Comey's triumphal proclamation that the report simply revealed "good people trying to protect America": "I think the activities we found don't vindicate anybody who touched this." 
At a few points he was even harsher, as when he was questioned by Republican senator John Kennedy. "It just seems to me that it has to be one of two things," Kennedy said. "Either incompetence or intentional conduct."

"I agree," Horowitz responded, pointing to 17 specific mistakes related to applications for FISA warrants. "It's either sheer incompetence, intentionality, or something perhaps in between. … I think it's fair for people to sit there and look at all of these 17 events and wonder how it could be purely incompetence." 
It bears repeating: This story isn't over. A second investigation into the origins of the Russia probe, being conducted by respected former prosecutor John Durham, is broader in scope and will include scrutiny of various elements of the intelligence community and the Obama administration, in addition to the conduct of law enforcement. There are reasons to be concerned about politicization of this effort. While Durham has earned praised from both Republicans and Democrats over the years, he was hand-picked by Attorney General Bill Barr and there is undoubtedly pressure on both men to produce something that will please a president desperate for vindication. But much of the mainstream media reporting on the Russia investigation reflects an unstated assumption that intelligence community leaders under Obama — John Brennan, James Clapper and others — conducted themselves in admirably. Even those skeptical of various Trumpian conspiracy theories ought to be eager to see those assumptions tested.
Worth Your Time
It's becoming increasingly and depressingly clear that one of the distinguishing characteristics of our digital age is the way it has made our addictions to our vices the cornerstone of our daily lives. In this week's New Yorker, Jia Tolentino maps out one particularly unsettling example of this: how the convergence of user-friendly photo retouching tools (like Snapchat and Instagram filters) and increasingly easy, cheap, and non-invasive plastic surgery are pushing the world toward a single, cyborgian ideal of anesthetic aesthetic perfection.

In The Atlantic, Emma Green details how a group of conservative Catholics have built a more isolated community for themselves in rural Kansas. "At a time when American politics is so fractured and dysfunctional, the idea of huddling among our own holds undeniable appeal."

For The Ringer, Alan Siegel charts Marvel's path from the original Iron Man film back in 2008 to the Avengers: Endgame behemoth that shattered box office records earlier this year. How did the movie studio come to dominate the decade? "The plan had been in place for years."
Presented Without Comment
Toeing the Company Line
Wednesday's French Press took a look at Trump's recent executive order on anti-Semitism, as well as a recent federal court ruling on Trump's border wall. On Thursday, David pointed out the problems a President Donald Trump presents to so-called "common-good conservatism," and expands upon his (incorrect) view that D.C. superhero movies are better than their Marvel counterparts.

Morning Dispatcher Declan Garvey joined Jonah on The Remnant to discuss Tuesday's Trump rally in Pennsylvania, how he ended up at The Dispatch, and Disney+'s The Mandalorian. Give it a listen here!
Let Us Know
The Bears are playing the Packers on Sunday at Lambeau Field in Green Bay. If you haven't noticed by now, Declan is a pretty big believer in Mitch Trubisky, while Steve is an Aaron Rodgers acolyte. Should they place a friendly wager on the game (Bears +4.5), and if so, what should it be?
Reporting by Declan Garvey, Andrew Egger, and Steve Hayes.
Photograph of Boris Johnson casting his vote with his dog Dilyn, on December 12, 2019 in London, England, by Christopher Furlong/Getty Images.