The Morning Dispatch: Breaking Down the Astros' Sign-Stealing Scandal
Plus, presidential trivia!
Happy Tuesday! As we continue to experience the slightest of lulls in the political news cycle, we thought it worth turning for a moment to another big national story: cheating in baseball. In recent years, we've seen Americans' faith in our institutions erode considerably, with scandals affecting the standing of the U.S. intelligence community, the Catholic Church, the financial sector, major news outlets, etc. Baseball has weathered its problems with steroids, but now faces a new test with this sign-stealing scandal and the league's incompetent handling of it.
Quick Hits: Today's Top Stories
Houston, We Have a Problem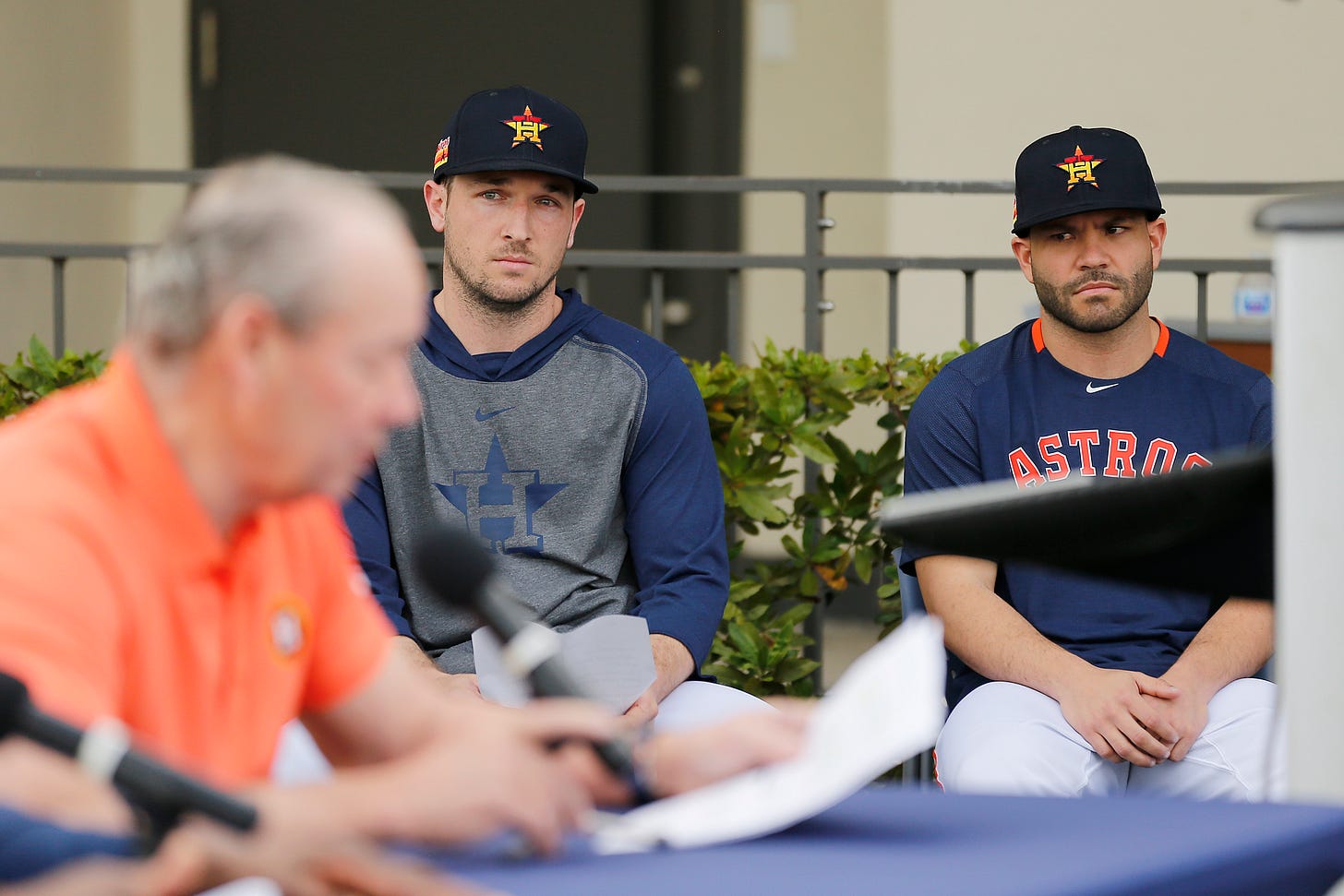 The temperature in Chicago reached a balmy 38 degrees last night, which can mean only one thing: Baseball season is nearly upon us.
But pitchers and catchers migrating to spring training in Arizona or Florida are returning to a game rattled by the worst cheating scandal since the Mitchell Report uncovered hundreds of players' steroid use nearly 15 years ago.
Just a few months after someone at the White House blew the whistle on a certain "perfect" phone call, another whistleblower was preparing to turn the baseball world upside down. 
"That's not playing the game the right way," former Houston Astros pitcher Mike Fiers told Ken Rosenthal and Evan Drellich of The Athletic in November, detailing an elaborate system set up by his old team in 2017 to relay pitch signs and eliminate opposing teams' ability to preserve a sense of ambiguity about which pitches were coming, and when.
Here's how it worked: During home games, a camera above the centerfield fence zeroed in on the opposing catcher's signals. Team employees would watch the feed on a television monitor near the team's dugout, decode the signs, and bang loudly on trash cans to warn batters of upcoming curveballs or changeups, allowing them to adjust their timing. Twitter user @Jomboy broke down the system in action:
MLB offseasons are notorious for their monotony. But once Fiers blew the Astros' cover, chaos reigned. Commissioner Rob Manfred promised to conduct a "really, really thorough investigation" of the situation. Players around the league began to level allegations at one another—both subtly and not. A Twitter account purporting to belong to the niece of an Astros player claimed the cheating extended after the 2017 season and that two of the team's best hitters—Jose Altuve and Alex Bregman—wore "buzzers" under their jerseys that transmitted signs even more quickly. A resurfaced video of Altuve telling his teammates not to rip his jersey off in celebration after a game-winning home run only added to the suspicions.
Dropping The Hammer?
And then came the punishment. Manfred announced the results of MLB's investigation into "the banging scheme" in mid-January, confirming nearly all of Fiers' charges. No individual players were penalized (Manfred granted them immunity in exchange for their cooperation), but the commissioner concluded that "virtually all of the Astros' players had some involvement or knowledge of the scheme." 
Manfred also absolved Astros owner Jim Crane of any wrongdoing: "Jim Crane was unaware of any of the violations of MLB rules by his club."
Rather, Manfred aimed his prosecutorial power at the team and its front office leaders. The Astros had to forfeit both $5 million—a relative pittance, but the maximum fine leviable by the league—and their top two draft picks in both 2020 and 2021. Manager A.J. Hinch and General Manager Jeff Luhnow were both suspended without pay for one season. For completely unrelated reasons (taunting female journalists by praising an Astros player arrested on domestic violence charges), the Astros' former assistant general manager Brandon Taubman was also banned from the game for a year.
That incident spurred Manfred to include a more sweeping condemnation of the Astros' organization as a whole: 
"The culture of the baseball operations department, manifesting itself in the way its employees are treated, its relations with other Clubs, and its relations with the media and external stakeholders, has been very problematic. At least in my view, the baseball operations department's insular culture—one that valued and rewarded results over other considerations, combined with a staff of individuals who often lacked direction or sufficient oversight, led, at least in part, to the Brandon Taubman incident, the Club's admittedly inappropriate and inaccurate response to that incident, and finally, to an environment that allowed the conduct described in this report to have occurred."
Crane fired Hinch and Luhnow that afternoon.
The scandal has since claimed two more scalps—Boston Red Sox manager Alex Cora, a bench coach for the Astros in 2017, and New York Mets manager Carlos Beltran, an Astros outfielder that season, were both fired from their new clubs after Manfred's report exposed their role in scheme.
'I Lost Respect for Those Guys'
Astros players and management publicly addressed their transgressions last week, issuing very narrow and contradictory apologies at a press conference that could perhaps be most generously described as … imprudent.
But with spring training getting underway, players from the other 29 teams are speaking out.
"I thought the apologies were whatever," Los Angeles Dodgers star and 2019 National League MVP Cody Bellinger said. "I thought Jim Crane's was weak. I thought Manfred's punishment was weak, giving them immunity. I mean, these guys were cheating for three years. … I know personally I lost respect for those guys. I would say everyone in the show, in the big leagues, lost respect for those guys."
"What a disgrace that was," Chicago Cubs third baseman Kris Bryant told reporters. "Watching their apology yesterday too, there's no sincerity, there's no genuineness. … A lot of the apology yesterday was a lot about 2017, 2017. It's like, I'm pretty sure it was going on in 2018 and 2019 too."
Even Mike Trout, the famously soft-spoken Los Angeles Angels superstar, pulled no punches. "I don't agree with the punishment, the players not getting anything," he said Monday. "It sucks, because like you said, guys' careers have been affected, a lot of people lost jobs, it was tough." (Trout was likely referring to pitchers like Mike Bolsinger, who, after one rough game against the Astros in 2017, was cut from his team and never pitched in the majors again.)
Baseball is in some ways a self-policed game. Infringements of various "unwritten rules" are typically met with a 90-plus mile an hour fastball between the shoulder blades. But the past few days have revealed an astonishing lack of faith among players in Manfred to keep the game from being corrupted. 
Many within baseball believe the commissioner approached his investigation into the Astros with a "see no evil, hear no evil, speak no evil" mentality. His office, for example, had heard whispers of the Astros' scheme for years, but acted only after Mike Fiers spoke out. And then Manfred decided to take the Astros' denials about the longevity of the scheme at face value. He has refused to entertain the idea of stripping Houston of their 2017 World Series championship, saying "the idea of an asterisk or asking for a piece of metal back seems like a futile act."
Dodgers infielder Justin Turner was appalled by that last comment from the commissioner. "The reason every guy's in this room, the reason every guy is working out all offseason, and showing up to camp early and putting in all the time and effort is specifically for that trophy," he said. "So for him to devalue it the way he did yesterday just tells me how out of touch he is with the players in this game."
"In a perfect world," Manfred said in an interview with ESPN, Astros players "would have been punished."
So why weren't they?
"I think if you watch the players, watch their faces when they have to deal with this issue publicly, they have paid a price," he argued. But he also admitted it would have been exceedingly difficult to discern how much blame to place on each individual, and that, with the MLB Players Association's ability to appeal punishments, "we didn't think we could make discipline stick."
That may very well be true. But the entire saga has severely diminished the credibility of Manfred—and the league as a whole. The drama and intra-MLB sniping may provide a short-term ratings boost as fans tune in to see how opposing teams deal with the Astros. But with the national pastime's popularity continuing to nosedive, the integrity of the game cannot continue to sustain the bruising it's taken in recent weeks.
Bloomberg and Sanders Go Low
Michael Bloomberg is the latest Democrat to take on Bernie Sanders directly, with a new video highlighting the incivility of some of Sanders' most aggressive followers. In so doing, Bloomberg is giving voice to complaints we've heard from traditional Democrats for months.
Over at Commentary, Noah Rothman has a smart, even-keeled look at how Bloomberg is trying to execute this attack and what complications he brings to the effort. On the one hand: "Let's stipulate that Bloomberg is among the worst ambassadors for this message" given his own "willingness to get down in the mud." On the other: "While Sanders has made rhetorical overtures toward civility, he's also surrounded himself with people who cultivate a very different atmosphere. His campaign has taken on a slate of formal surrogates who have a conspicuous habit of engaging in anti-Semitic rhetoric and who reserve the most caustic vitriol for their fellow Democrats—at least, those who do not display a sufficiently zealous commitment to his 'revolution.'"
At Sanders' events over the past several weeks, top surrogates have led the booing of Hillary Clinton and offered sharp critiques of the Democratic National Committee. And online, they've amplified conspiracy theories about a rigged process and threatened supporters of other candidates.
The back-and-forth between the two campaigns intensified when Bloomberg campaign manager, Kevin Sheekey, released a statement accusing Sanders of Trump-like tactics after the Sanders campaign put out video from 2016 in which Bloomberg appears to downtalk farmers. Sanders responded by tweeting a photo of Bloomberg golfing with Trump.
It's hard to imagine many voters following the blows of this particular middle-school back-and-forth among the leading Democrats—or becoming a supporter of either candidate as a result. But Bloomberg has shown a knack for picking fights that result in abundant media coverage—free airtime that supplements the more than $400 million he has reportedly spent on paid media.
But now he and Sanders can air out their differences face-to-face instead of squabbling on Twitter via surrogates. It turns out that Bloomberg has qualified to be onstage at Wednesday's debate in Las Vegas.
Worth Your Time
Presented Without Comment
Toeing the Company Line
Let Us Know
In honor of Presidents' Day on Monday, we pinged our readers for their favorite tidbits of presidential esoterica. Here are some of our favorites of your favorites:
Reporting by Declan Garvey (@declanpgarvey), Andrew Egger (@EggerDC), Sarah Isgur (@whignewtons), and Steve Hayes (@stephenfhayes).
Photograph of Astros owner Jim Crane reading a prepared statement during a press conference on February 13, 2020, by Michael Reaves/Getty Images.