The Morning Dispatch: Mayor Pete as Frontrunner
Plus, Trump purges impeachment witnesses Vindman and Sondman.
Happy Monday! Good morning from New Hampshire, where the forces of primary-week supply and demand have led to Declan staying in a hotel where everything is sticky or smells like cigarettes, but, at least for now, The Morning Dispatch remains bedbug-free.
Quick Hits: Today's Top Stories
Mayor Pete Gets the Frontrunner Treatment (For Now)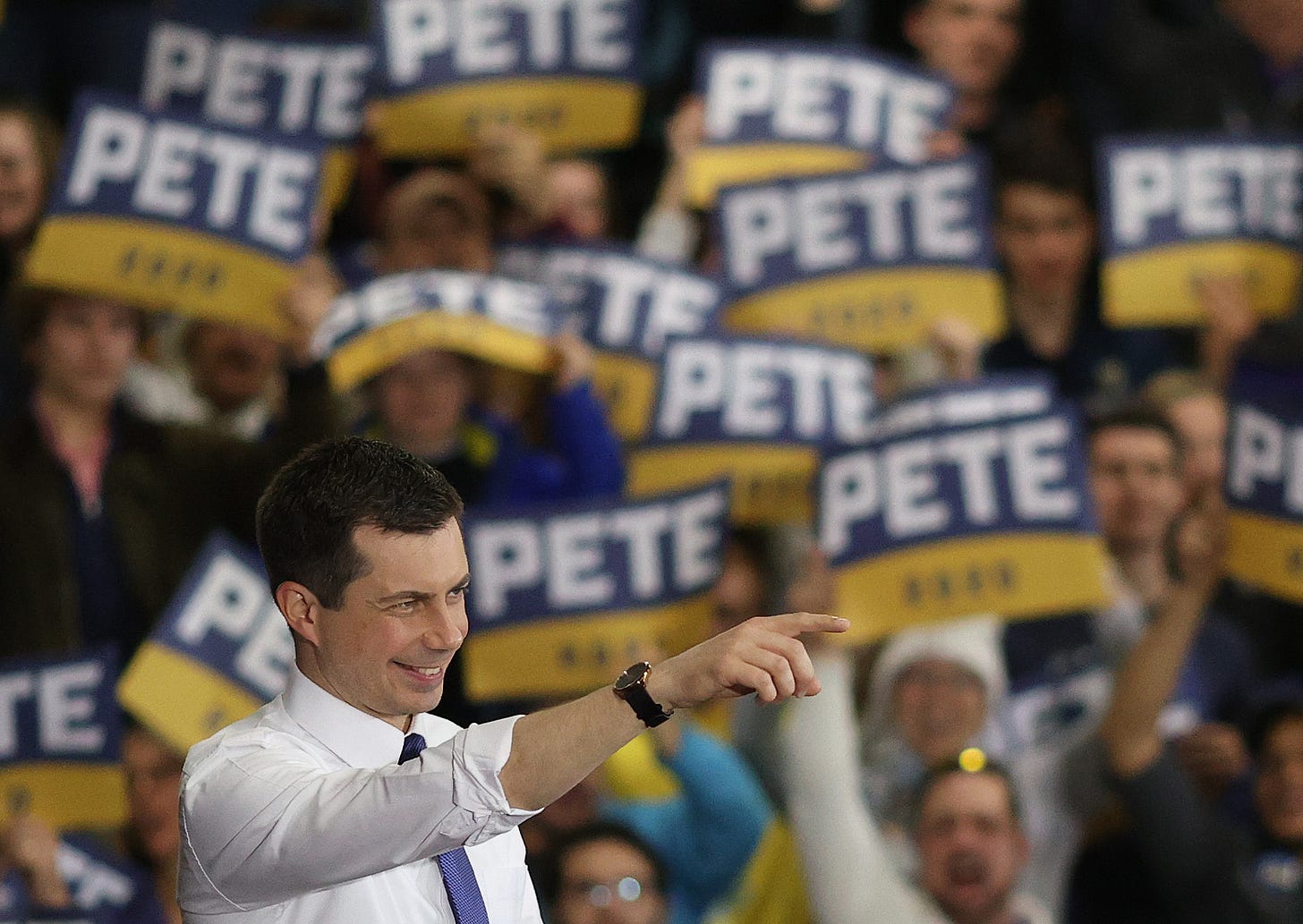 The 7.86 million people who tuned into the eighth Democratic presidential debate of the cycle on Friday saw a field of candidates at each others' throats. With New Hampshire voters set to cast their ballots on Tuesday, the debate represented the last, best chance for the presidential aspirants to make their case, trash their opponents, and prolong their own candidacies. One former South Bend mayor in particular seemed to field the most incoming attacks.
Joe Biden was the first to strike. "He's a mayor of a small city, who has done some good things," he patronizingly described Pete Buttigieg. "But [he] has not demonstrated he has the ability to ... get a broad scope of support across the spectrum, including African Americans and Latinos." The former vice president launched a digital ad on Saturday taking aim at the "smallness" of Mayor Pete's accomplishments in South Bend.
"We have a newcomer in the White House, and look where it got us," Sen. Amy Klobuchar added, attempting to poke a hole in Buttigieg's outsider message. "I think having some experience is a good thing."
"Unlike some of the folks up here," Sen. Bernie Sanders chided, "I don't have 40 billionaires, Pete, contributing to my campaign, coming from the pharmaceutical industry, coming from Wall Street, and all the big money interests."
Since squeaking out a surprise victory over Sanders in Iowa, Buttigieg has found himself in a position few would have predicted just a year ago: Ascendant, and squarely in the crosshairs of his Democratic rivals.
But the attacks might not be enough to slow Pete's roll, and they could even work to elevate his profile. Buttigieg has gained nearly eight points in the RealClearPolitics New Hampshire polling average since Iowa voted last week, rocketing past Biden and Sen. Elizabeth Warren on his way toward Sanders, whom he called out by name at a rally on Sunday night.
"I respect Senator Sanders and I think a lot of the ideas that he is calling for tie to values that we all share," Buttigieg explained to a Londonderry-record crowd of 914 packed into a middle school cafeteria. "But at a moment like this, telling Americans that you've either got to be for a revolution or you've got to be for the status quo is telling most of us we don't belong. And we need a political movement where everybody can find a home."
The Dispatch spoke to one voter at the event on the fence between Bernie and Pete, but most were staunchly behind the latter.
"I wouldn't want Bernie," Anne Fenn, a New Hampshire voter, told The Dispatch when asked if there were any candidates she didn't want to see win the nomination. "I really wouldn't. Sorry. I mean, he's too argumentative, and he didn't, from my point of view, didn't really accomplish a whole lot in his 30 years in both the House and the Senate."
When told other candidates, including Joe Biden, had been criticizing Pete for his lack of accomplishments, Fenn remained steadfast in her support for the South Bend mayor. "I don't think that actually resonates very well for Joe," she said. "Because that's not who he is and that's not his personality. I think it really doesn't help him to do that, to tell you the truth."
"Most people love Joe. Who doesn't love Joe? Uncle Joe!" she added. "But to go on the attack, it really does not represent Joe Biden."
"I'm also very anti-Bernie," Fenn's friend Neila Brownstein told The Dispatch. Brownstein is supporting Klobuchar, but she admitted it was "kind of hard sitting here tonight, listening to Pete, and realizing, 'yeah, this is an amazing candidate as well.'"
"It's not that we don't have these aspirational goals," she added in a nod to some of the field's loftier policy ambitions. But "this Bernie and Elizabeth approach of day one, boom, it's there—it's not going to fly. It's not going to get through Congress."
"For 99 percent of us, defeating Trump is first and foremost," Brownstein said. "If he is in office, all of these wonderful, passionate dreams will never get accomplished. So you have to get in the office before you can get the job done."
Even some of Bernie's former supporters have forsaken him. Asked her top priority in choosing a candidate, Liz Richter answered immediately: "Electability, for heaven's sakes!"
"In 2016 I was all for Bernie, and still think the world of him," she said. "But I don't think somebody as progressive as Bernie or Elizabeth will appeal to enough percentage of the country."
Buttigieg is still plenty progressive on a whole host of issues: abortion, guns, and climate change to name just a few. But in a world where Democratic primary voters' most important candidate quality is his or her ability to send Donald Trump packing, attacks on Buttigieg from the left—from the Sanders camp on Pete's call for deficit reduction, for example—may not carry the same weight they otherwise would.
Trump's Impeachment Retribution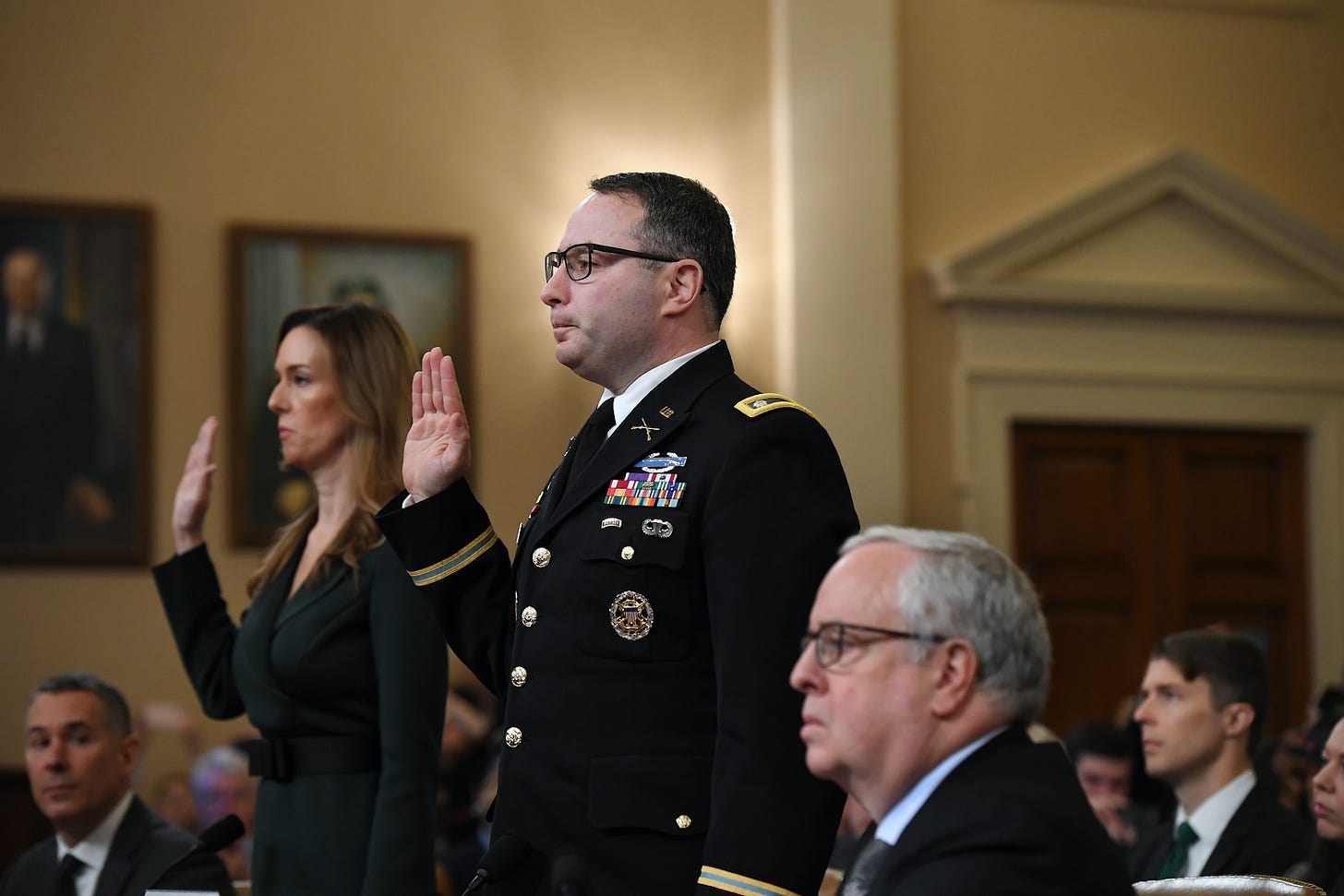 On Friday, Lt. Col. Alex Vindman and his twin brother were both removed from their posts at the White House at the direction of the President. Gordon Sondland was also recalled from his post as ambassador to the European Union.
Back in October, both Vindman and Sondland—and plenty of others like Secretaries Rick Perry and Mark Esper and Vice President Mike Pence—received subpoenas from the House of Representatives to testify or produce documents about the President's actions surrounding the delayed military funding to Ukraine and the pressure on the Ukrainian government to investigate the Bidens. 
The White House directed executive branch employees not to comply. Some—like Vindman and Sondland—chose to testify anyway, while others—like Charles Kupperman—chose to ask the courts to decide. Some, like Vice President Pence, simply ignored Congress.
Vindman and Sondland's testimonies revealed new and damaging details about the president's involvement in the Ukraine saga.
Sondland, who had donated $1 million to Trump's inaugural committee, confirmed that there was a quid pro quo, saying, "I know that members of this committee frequently frame these complicated issues in the form of a simple question: Was there a quid pro quo? As I testified previously, with regard to the requested White House call and the White House meeting, the answer is yes." He also confirmed that many senior administration officials were in the loop, including Vice President Pence, Secretary of State Mike Pompeo, and acting White House chief of staff Mick Mulvaney.
Vindman, who had won a purple heart for his service in Iraq and joined the National Security Council in 2018, offered that he believed it was "improper for the president of the United States to demand a foreign government investigate a U.S. citizen and political opponent," and that no other national security officials supported withholding the military assistance.
Others who testified in the impeachment inquiry—such as Jennifer Williams, Marie Yovanovitch, and Bill Taylor Jr.—have already left their positions.
As the New York Times reported over the weekend, some Republican senators who had voted to acquit the president—including Sens. McSally, Tillis, Johnson, and Collins—tried to stop Trump from firing Sondland, without effect.
Some publicly defended Trump's actions.
But it's clear Trump himself viewed his actions vis-a-vis Vindman as a retributive firing: He was escorted out of the White House, his twin brother was removed as well, and Trump retweeted a congressman using the word "fire" to describe what happened. 
And Donald Trump Jr. tweeted sarcastic thanks to Adam Schiff for identifying those who needed to be punished.
The president defended his decision on Twitter, calling Vindman "very insubordinate": 
Sen. Dianne Feinstein, however, called it "as clear a case of retribution as I've seen during my 27 years in the Senate."
Vindman's attorney also released a pointed statement: 
"He did what any member of our military is charged with doing every day: he followed orders, he obeyed his oath, and he served his country, even when doing so was fraught with danger and personal peril. And for that, the most powerful man in the world—buoyed by the silent, the pliable, and the complicit—has decided to exact revenge… If we allow truthful voices to be silenced, if we ignore their warnings, eventually there will be no one left to warn us."
Worth Your Time
In recent weeks, we've mentioned a number of alarming reports in this space about the growing power of the private surveillance state and the growing willingness of law enforcement to partner with it. Now, a new Wall Street Journal report has brought to light one of the largest instances of such cooperation yet. For the last three years, the Department of Homeland Security has been using cell location data pulled from ordinary apps to track and arrest illegal immigrants and other people in the U.S. unlawfully. The move is apparently perfectly legal—by purchasing the data from private marketing companies rather than seeking it directly from cell companies, the government avoids triggering a 2018 Supreme Court ruling that established cell location data as a protected class of information. But it further underscores how pervasive these public-private surveillance partnerships are becoming, and how underdeveloped laws shoring up civil liberties against such all-encompassing surveillance still are. Read the whole thing here.

One of the odder phenomena of the Trump era has been the emergence of QAnon—an online conspiracy community of Trump supporters who believe, among other things, that the president was elected to unearth and root out a global ring of pedophiles and that the Mueller investigation was secretly created to implicate prominent Democrats in the scheme and ship them off to Guantanamo Bay. This unsettling New York Times piece by Mike McIntire and Kevin Roose catalogs how, in recent months, the conspiracy has begun to make the jump from cyberspace to the real world: QAnon devotees now show up regularly at Trump rallies, a number of congressional candidates have endorsed the theory, and QAnon personalities have been invited to the White House's social media summit. 

Although Donald Trump's hotel companies have insisted for years that they charge the government at cost when the president and his retinue stay at Trump properties, a Washington Post review of Secret Service records has found that they have charged rates of up to $650 a night for Secret Service rooms, with total taxpayer payments to Trump properties so far exceeding $471,000. 
Presented Without Comment
Something Fun
Experts agree: Never let a little thing like an awards show, or your role in an awards show, ruin the rhythm of getting your sandwich on. 
Toeing the Company Line
Let Us Know
The 92nd Academy Awards were held last night, and Parasite, the South Korean thriller, was the big winner. (Not to brag, but back on October 21 we wrote: "Parasite, the latest film from South Korean director Bong Joon-ho, might just be the movie of the year.")
Our question to you: Did the Academy voters make the right choice?
Our second question to you: Do you care about the Oscars?
Reporting by Declan Garvey (@declanpgarvey), Andrew Egger (@EggerDC), Sarah Isgur (@whignewtons), and Steve Hayes (@stephenfhayes).
Photograph of Pete Buttigieg by Win McNamee/Getty Images. Photograph of Lt. Col. Vindman by Matt McClain/The Washington Post via Getty Images.