The Morning Dispatch: The Iowa Caucuses Are Just 10 Days Away
Plus, updated reporting on the nuclear modernization funding battle.
Happy Friday! With impeachment managers continuing to make the House's impeachment case to the Senate, we thought today would be a good day to look away for a minute at the state of the 2020 election—particularly the Iowa caucuses, now less than two weeks away! But if you want a flavor of the day's proceedings, this closing argument from Rep. Adam Schiff gives you the Democrats' case in less than nine minutes.
Quick Hits: Today's Top Stories
While the Chinese government continues to offer reassurances about the spread of the coronavirus, its actions send a very different message. Officials blocked travel to and from—and in—Wuhan, ground zero for the outbreak. Public transportation was suspended in other major cities as well, contributing to increasing anxiety among the public. 

The annual March for Life takes place today in Washington and across the country, with pro-life advocates congregating on the National Mall to demonstrate against the continued existence of legal abortion in America. President Trump plans to address the event in person, a presidential first.

More official word of FISA malfeasance out of the Department of Justice: The DoJ has determined that at least two of the FBI's applications to surveil former Trump campaign adviser Carter Page lacked probable cause and should not have been issued.

The U.K, parliament approved prime minister Boris Johnson's Brexit legislation Thursday, paving the way for the country to exit the European Union on January 31.  

President Trump's impeachment trial continues, with the House's impeachment managers set to wrap up their opening arguments in favor of President Trump's removal from office today. The White House's defense will start Saturday and extend until next Tuesday. (Mercifully, everyone involved will at least get Sunday off.)
Checking In on 2020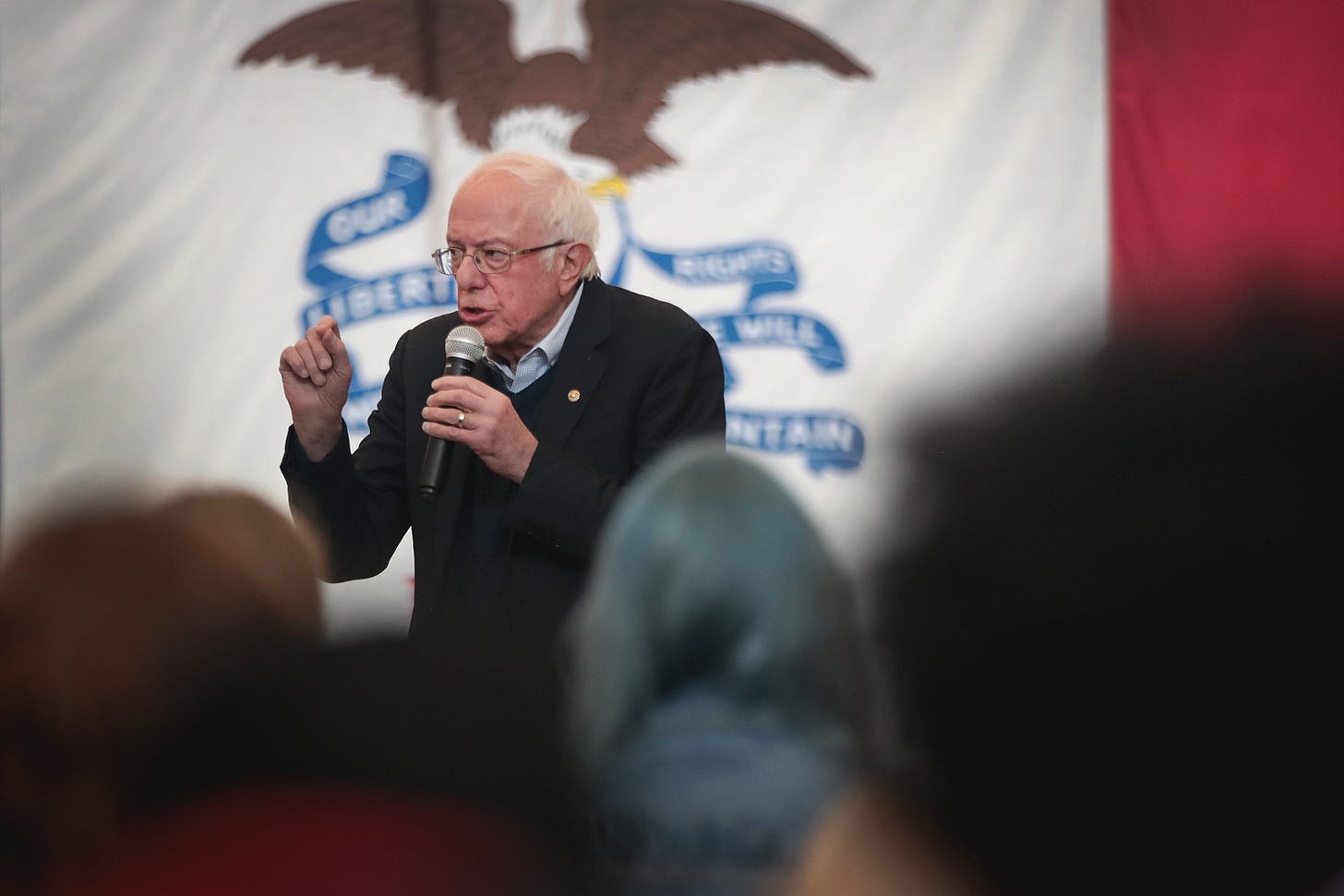 In the final sprint to Iowa, three of the top five Democratic contenders find themselves in the Senate chamber today drinking only water or milk. 
It didn't take a seasoned Iowa political operative to tell us that it's not ideal to have your candidate on jury duty 10 days out from the Iowa caucus. But we went and talked to one anyway … just in case.
In our texts with that operative, David Kochel, last night, he made three interesting points. 
The impeachment trial hurts Warren and Klobuchar more than Sanders. "Bernie's thing is self-sustaining," he says. This makes sense if you've ever talked with a member of the Bernie Army. Remember his ad from 2016 that may well be the most effective political ad of the last decade? They don't need to meet the Dear Leader over a slice of Casey's breakfast pizza off I-80 to feel like they are part of his movement. For Warren and Klobuchar, however, the absence may well be the final blow for both despite their best efforts to stay in touch with teletownhalls and MSNBC hits. 

Biden is surging at the end in Iowa, according to Kochel. He chalked this up to a few factors: voters "who've been out speed dating other dates have returned to him as a safe harbor," apprehension about Bernie Sanders among the moderates of the Democratic base, and media coverage of the impeachment trial reminding voters that Biden as the nominee must scare Trump. 

The chief unknown for Kochel is whether "Mayor Pete accomplishes what he needs in Iowa … finish ahead of Biden." And if there's anyone who is looking at this impeachment trial like manna from heaven, it has to be Pete Buttigieg who is making the most of it, barnstorming the state from Orange City to Council Bluffs. 
The DNC doesn't want to repeat its 2016 mistakes.
The DNC just announced "'Battleground Build-Up 2020,' a new, multimillion dollar investment starting in six battleground states (AZ, FL, MI, NC, PA and WI)." Press releases like this from the national parties are both common and usually less than meets the eye with very few specifics. But two things jumped out at us:
Where's Georgia? Democrats have long pitched high-dollar donors to spend big in states like Georgia and Texas. In 2018, both sides went in big in Georgia's gubernatorial race, spending a combined $100 million only to see Republicans squeak out the narrowest of wins. But demographics are destiny, Democrat fundraisers argue, and states like Georgia are now on the verge of tipping for good … if we can just get that check now, ma'am. So it is noticeable that with limited resources headed into 2020, the DNC isn't targeting Georgia as part of its "battleground" effort.
The DNC's money deficit at this point is hard to overstate. As of the end of last quarter, the RNC "had seven times as much cash on hand as its Democratic counterpart." Combined with the Trump campaign, the GOP has $200 million at its disposal to start spending. At its winter meeting, RNC Chairwoman Ronna McDaniel announced the committee would have a total of 600 staff across 18 states, including a new "seven figure" investment in Michigan, Pennsylvania, Wisconsin, New Mexico, Minnesota, New Hampshire, Arizona, Georgia and Texas.
We're looking at the wrong voters.
This tweet by former Kamala Harris campaign spokesman Ian Sams struck us as spot on:
Since 2016, focus group after focus group and think piece after think piece have taken us into the minds of the Obama/Trump voters that carried the president across the finish line in 2016. And by all accounts, they're sticking with Trump in 2020. 
But that's not the only reason Trump won. An estimated 4.4 million Democrats who voted for Obama in 2012 stayed home in 2016. If the Democratic nominee can turn out the Obama/Nobody voters in 2020, that's a pretty good path to 270 and low-hanging fruit that isn't psychologically invested in the success of the Trump presidency.
All of the Democratic candidates are focusing on electability at this point in the race, but the most persuasive arguments shouldn't be about flipping Trump voters--regardless of who they voted for eight years and a recession ago. Turnout, turnout, turnout. 
Nuking OMB
On Tuesday, we brought you a story about an intra-GOP battle over funding for securing and modernizing America's nuclear arsenal. For 30 years, the urgent calls for nuclear modernization from national security officials and nuclear weapons experts have been largely ignored. Decades of peace dividends, wars on terrorists and their sponsors, and congressionally mandated belt-tightening meant that plans to update and upgrade America's nuclear capabilities were put off—again and again and again.
The Trump administration has increased funding for the National Nuclear Security Administration (NNSA) over the past three years. But more was needed, in the view of 
Lisa Gordon-Hagerty, the under secretary of energy for nuclear security and the administrator of the NNSA. Gordon-Hagerty had requested $20 billion in funding for her agency in fiscal year 2021—an increase over 2020 funding levels, but short of what many nuclear experts believe is necessary for a long-delayed modernization effort. And yet, Gordon-Hagerty's request was rejected and the White House budget office proposed $17.4 billion. 
Gordon-Hagerty fought back. In a blistering and detailed memo to her new boss, Energy Secretary Dan Brouillette, Gordon-Hagerty argued that failing to fund NNSA at the higher amount would "seriously risk the nation's deterrent capability and put at risk the nation's status as a superpower. … Reductions of this magnitude bring into question our ability to provide a safe and secure and effective nuclear deterrent. At this level of funding, NNSA will need to reduce the size and composition of the stockpile almost immediately." The challenge was not just inadequate funding in 2021, she argued, but a shortfall of more than $16 billion over the next four years.
She won support from prominent defense hawks in Congress, who wrote to President Trump last week seeking an Oval Office meeting to help Gordon-Hagerty make her case. They were granted that meeting with the president Thursday but, curiously, Gordon-Hagerty, who knows more about the details of the funding request that anyone, wasn't invited. The administration officials present, including acting White House chief of staff Mick Mulvaney and Brouillette, argued against the higher number. It fell to Republican lawmakers—Sens. Tom Cotton, Jim Inhofe, Deb Fischer and John Cornyn, along with Reps. Liz Cheney and Mike Turner—to argue for full funding of the modernization proposal. 
They were convincing. Trump approved the higher number. Gordon-Hagerty, who was on Trump's short list of possible national security advisers after John Bolton departed the White House, prevailed in absentia.
Worth Your Time
Writing in the Washington Post, former FDA commissioner Scott Gottlieb has a compelling piece about how the United States should react and respond to the growing coronavirus threat in east Asia. 

In yesterday's Morning Dispatch, we saluted the wildly streaky career of former Giants QB Eli Manning, who retired from the NFL this week. The best piece we've seen on the news comes from Rodger Sherman of The Ringer: "Forget the Hall of Fame Debate. Embrace the Hall of Eli Manning." 

If you take a bunch of senators' phones away and stick them in the Senate chamber to hear dry legal arguments for days on end, they'll seemingly start to think anything else is interesting. Follow along with CNN's Mike Warren and Ted Barrett as they go on a journey of discovery with some of these senators: "Pat, did you know this? We can order milk to the Senate floor?" 

As mentioned above, the March for Life is today. In 2017, then-Utah Rep. Mia Love addressed the march and told the moving story of her own parents and the choices they faced. Try not to cry, we dare you:
Presented Without Comment
Something Fun
Even impeachment managers can get a little stir-crazy after three solid days of non-stop trial. In his remarks Thursday, Rep. Hakeem Jeffries took a minute to pause from his arguments about the necessity of subpoenaing the likes of Mick Mulvaney to argue for another subpoena that might be useful, while they were on the subject.

Toeing the Company Line
David's Thursday French Press is a doozy: James Madison's take on the impeachment process, the damage open carry can do to the gun rights movement, and the real implications of Espinosa v. Montana Department of Revenue on public school funding. Give it a read here!

On the home page today, Sarah offers up a list of books you should read if you need a break from impeachment. (Somehow, one of them is still about impeachment.) And Jonah looks at the economic and cultural nationalism trends that are causing a behind-the-scenes battle in the conservative movementl.
Let Us Know
In what will almost assuredly end up being a viral marketing effort leading into a Super Bowl advertisement, Planters has killed off its beloved(?) Mr. Peanut. Molly Roberts has a wonderful obituary for the anthropomorphic legume over at the Washington Post.
The gimmick has worked wonders for the brand in recent days. Our request of you: Send us the best (or worst) ad campaign or brand mascot you can think of.
Reporting by Declan Garvey (@declanpgarvey), Andrew Egger (@EggerDC), Sarah Isgur (@whignewtons) and Steve Hayes (@stephenfhayes).
Photograph of Bernie Sanders in Iowa by Scott Olson/Getty Images.